Imagination Movers, review
They live between your ears...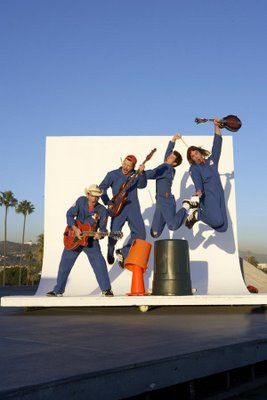 Their new show on Playhouse Disney (daily at 9 cst) premiered on Saturday and I'm a fan so far! I mean, um, my son loves them. Yeah, that's it.
Their show seems based around problem solving and critical thinking skills, but I've seen plenty of vocabulary and basic comprehension concepts like "open, closed, open closed" when they're playing with doors and plenty of interpersonal skill modeling, as the friends support and encourage each other and those around them. The music of course is cool, and the peripheral characters are not
too
obnoxious. My 3 yr old belly laughs at them every show and is already talking to me about what he learns.
The plot model is that the Movers are in business solving problems, though they don't seem to have any customers but themselves. The episodes I've seen include "No Noise is Good Noise," in which their music is interrupted by a mysterious, loud sound, "The Tooth Hurts," in which Warehouse Mouse is afraid to go to the dentist, "Bad Hair Day," in which Scott is embarrassed of his hair but the newspaper needs a photo right away, "Puppy Problem," in which a lost dog shows up on the warehouse doorstep, and "Too Cool," in which their warehouse is freezing cold and they have to figure out where the cold is coming from (full episode of that one available for viewing
here
.)
For the moms: Kids' music combined with cheesy 80s references and the guys aren't hard on the eyes. How can you not love them??