2006 Zilker Kite Festival
So, this past Sunday was my first foray into the world of kite fanatics. Ana and Lil Brent and I drove downtown and enjoyed an overcast but superfun day at the
Zilker Kite Festival
. I would say I had no idea how many people there were with such a kite fetish, but I've learned not to underestimate hobbies. And any hobby can become an obsession given enough time and money! You knitters would probably agree that Austin is a great place to be obsessive with your hobbies and, apparently, kites are no exception. We have a
great shop
devoted to kite devotees where you can choose from all
kinds
of kites.
Look at what we spotted:
Extremely small and extremely big kites:

They even have
something
for the kite geek's special romantic occasion. You get your own lingo: parafoil, spinner, winder, spine, spar, sleeving, manjha, drogue, and of course, tons of wind-related meteorological terms. If that doesn't sound hardcore to you, how about
kitefighting
?
That said, not everyone was a fanatic, of course. There were hordes of people there, and most were there with their families and their dogs, having picnic lunches, snapping pictures of their kids, yelling, "Run faster, run faster!"
There were some slightly less family-friendly moments...
Beer chugging contests...
And sadly, not always a lot of wind.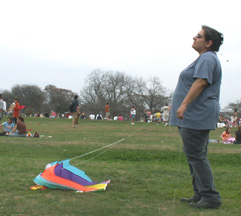 But all in all, it was a great day. If you're in the Austin area, and have never been to the Kite Festival, start making plans now for next spring!