Tending Teethy
(Stick with me through baby stuff; I'm posting yarn photos after this!)
So, life has been quite full lately! Lil Brent has sprouted some gorgeous toofers and is quite proud of them.
He has also learned how to crawl, pull up, and is working hard on cruising. So, basically, even when he's feeling like playing independently now, I can't take my eyes off of him. I know that someday, I will knit again!
For the moment, however, I've made just enough progress that I felt moved to photograph the green kimono and post an update. The pants need to be seamed, and a second garter strap attached, and THAT'S. IT. Wooo hoooo! The bottom photo is supposed to be a close-up of a finishing/seaming job I'm very proud of, but I didn't get quite close enough. It's an armhole and the sideseam underneath it.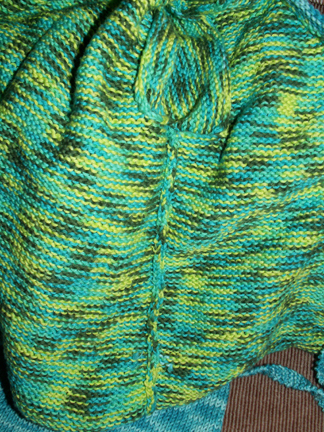 You might notice the knitting loom behind everything. I just learned how to use it (thanks Karen!) and actually like it, but haven't had time to start an actual project on it.
Upcoming fun stuff: a knit-together at Bluebonnet Yarn Shop
and
the Zilker kite festival this weekend, and an HFS coronation event in Laredo in a couple of weekends.