Twas the Day After Christmas
And all the through the house, there's no room for more toys, not even a mouse. But I got all the wrapping paper and boxes picked up, and we even had a hot cooked breakfast, hehehe. I actually didn't take many pictures yesterday. Gigi has been cranky (teeth, I think) and so I was doing too much walking and rocking to be able to hold the camera.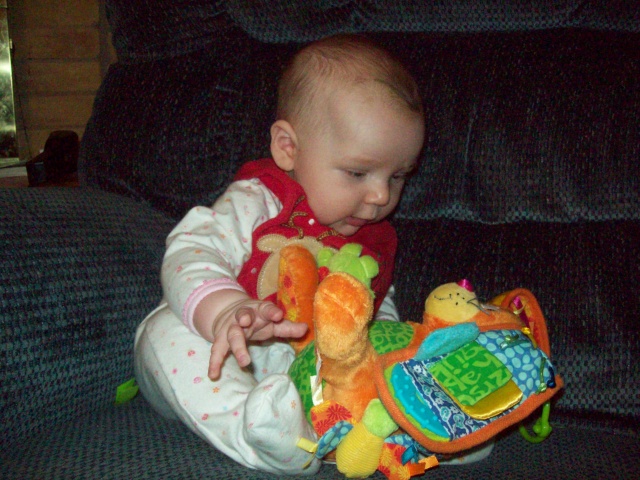 And as a lame attempt to focus on ME for a moment, even with a baby in my lap and a monkey boy running around the room in front of me like a dervish, here's a meme:
Where is your mobile phone?
side table here next to me.
Where is your significant other?
planted in front of his computer playing his new game, Fallout 3.
Your hair color?
dark brown.
Your mother?
Hanging with her mom who is visiting from Bogota to meet all her great grandchildren. :)
Your father?
I would put money on that he's in his recliner with 2 dogs in his lap, watching TV.
Your favorite thing?
Naps!
Your dream last night?
Can't remember...
Your dream goal?
To be old and gray, knitting for my great grandchildren.
The room you're in?
The den, which is an unholy mess. Or you could call it wall-to-wall toy carpetting.
Your hobby?
Knitting, though I don't have much time for it.
Your fear?
Losing my family.
Where do you want to be in 6 years?
Driving my kids to soccer/gymnastics/piano practice.
Where were you last night?
Home, online.
What you're not
Bored or well-rested.
One of your wish-list items?
Circular wooden needles, sizes 1-4.
Where you grew up?
McAllen, TX.
The last thing you did?
Helped Brent wash his hands after he went potty.
What are you wearing?
My stay-at-home uniform: tshirt and panties.
Your TV?
On Price Is Right. :)
Your pets?
2 dogs: Reese & Tyler, and 5 fish in 2 tanks.
Your computer?
My husband's laptop from work.
Your mood?
Peaceful, since the baby's asleep and Brent is busy & happy.
Missing someone?
Not really. :)
Your car?
In the driveway resting from lots of trips to the inlaws and back lately.
Something you're not wearing?
Um, pants? lol
Favorite shop?
Gauge Knits, Austin TX!
Your summer?
Honestly? It was like the 7th level of hell, but it's over. And I'm never getting pregnant again! lol
Love someone?
Many, many people. I have a full, lovely life. :)
Your favourite color?
Purpley pink.
When is the last time you laughed?
Just a little while ago when my husband declared the new Wubbzy DVD was his and Brent climbed up him and onto his head to retrieve it.
When is the last time you cried?
I honestly don't remember. Not because it was that long ago but because it wasn't that big a deal. I cry easily when I get frustrated.