Lovely gifts to share
Will my blog survive?!
OK, despite advance knowledge that blogger code is acting funny and putting big HOLES in people's blogs (like
poor Ana's
, for example) I must share these beautiful pictures. And if my blog also becomes wonky, I can email the support team so Ana doesn't have to do it!
First of all, you HAVE to see this old photo of Will as a 2wk old that his grandmother gave me years and years ago, which I horribly lost during a move out of my mother's house more than 5 yrs ago(!), and which my mother FOUND and returned to me last weekend. I nearly cried with gratitude. I find his little face so WISE.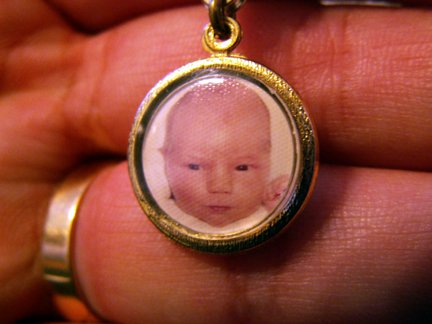 OK, next is the BLING. Ana made these stitchmarkers for me a couple of weeks ago; aren't they cute?!
And these were gifted to me totally by surprise this weekend. I met a friend of a friend at the LYS; her name is Christi (hope I'm spelling it right) and she makes gorgeous stitchmarkers as well. Check em out! I was thrilled. The spiky rainbow ones are softish and are the most mesmerizing tactile fun... I shall play with them often.