WIP photos!
I'd post WIP photos more often, but just LOOK what I have to put up with:
I battled him out of the chair this time, though. Okay, so I sat on him.
Here's my second soaker (Ana's made two as well: a solid camel one, and a solid natural one). The way cool wool for this one is KnitPicks handpainted by Ana for a camo effect. Is it just me, or did the pooling spell my name?!
The first soaker. This is actually an FO, made from wool handed-me-downed from
robincat
.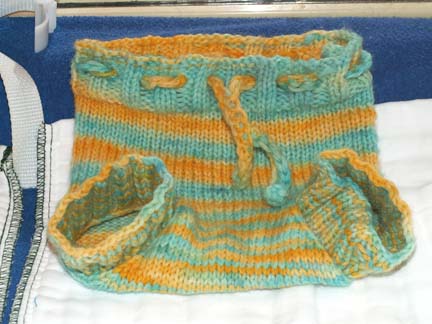 And finally, the girly blanket I'm garter-stitching to donate to
Seton Northwest Hospital
, where Tick was born. When I left, I was presented with my choice of any one of a basketful of handmade baby blankets, and was told their goal is to be able to send
every
newborn home with a handmade blanket. "Pretty neat of them," I thought.