Sunday, July 23, 2006
Oh, shidt!
Apparently,
Robin
has a cranky German word verificiation gremlin:


(hee hee hee hee hee hee hee hee)

Friday, July 07, 2006
Nothing but knit!
It's been WAY too long since I posted any knitting content, so here goes:
I finished the Seton Blanket (to be donated to Seton NW Hospital's maternity ward), complete with edging. It, um, still hasn't been laundered or taken to the hospital but I swear I'm going to do it! It's a simple diagonal corner to corner blanket done in garter stitch stripes with three rows of single crochets around the edge. The yarn is Caron Simply Soft. I really like how it came out.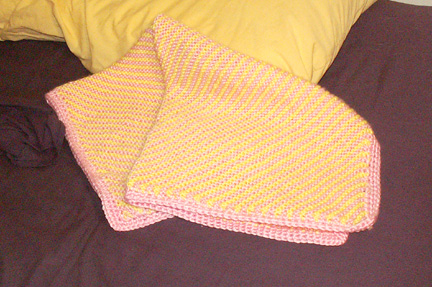 And here's my version of the
Cecilia sweater
from the Spring '05 Knitty, which came out right in the middle of my pregnancy. I used colors out of a grab bag of cotton scrap yarns, mostly Tahki
Cotton Classic and Classic Elite Provence, gifted to us from an ex-Knittyhead, icefeather. I love the way the colors fell together and I'm so happy with this sweater; I wish it were mine. It's actually not
technically
an FO, as it still needs a zipper and could use some blocking. I'll get to it! And I will get modelled pics come winter weather.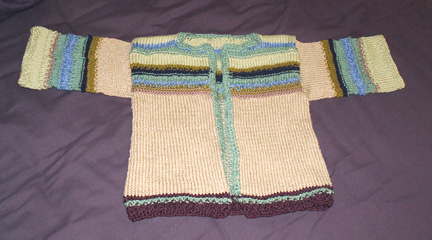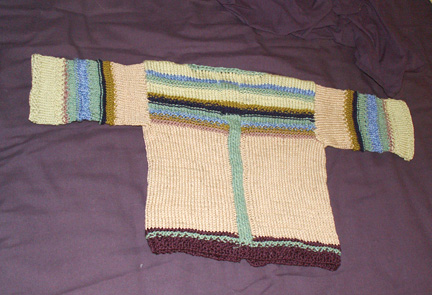 And my only real WIP at the moment is the adorable-to-be stuffed turtle, also being constructed from that same bag of cotton scrap yarns. The shell is all seamed together, and the piece on needles is the underbelly. So I have yet to finish that, knit the head, tail, and legs, then finish assembly and stuffing -- yay! Why yes, those
are
size 1 circulars.
Robincat
said the pieces feel like cardboard, they're so tight. Together with the seed stitch texture, that makes for toddler teething nirvana! So far, 2 out of 2 babies agree.