Trail of Lights 2007
After nearly 10 yrs living in the Austin area, this year's was my first visit to the annual Trail of Lights. It was... a whole lotta lights.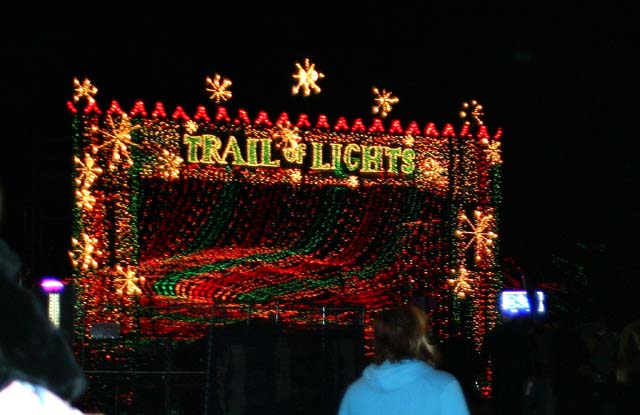 I was (for some reason) expecting something more kid-friendly, but
the barrier fences between the light displays and the walkways were mere formalities
, and the crowds were way too thick for us to be able to let go of Brent for any length of time. He was off-and-on
pretty frustrated
by the situation, but behaved himself well, considering, and seemed
happy on Daddy's shoulders
most of the time. His favorite part of the actual Trail was the mini-train ride on the Zilker Zephyr (
this is the best picture I could get
... it's kind of fast for a little train!)
The much bigger hit was the Zilker Tree, a ginormous Christmas tree spiralling into the sky. Here's
a view from several blocks away
. When we walked under it to
look up and see this
, Brent was one thrilled little boy.
If there were more to do in that part of the attraction like children's rides or play areas, I'd say it was worth it to go just for that. Otherwise, I think our light-gaga boy is just too hyper and hands-on to truly enjoy the Trail until he's older.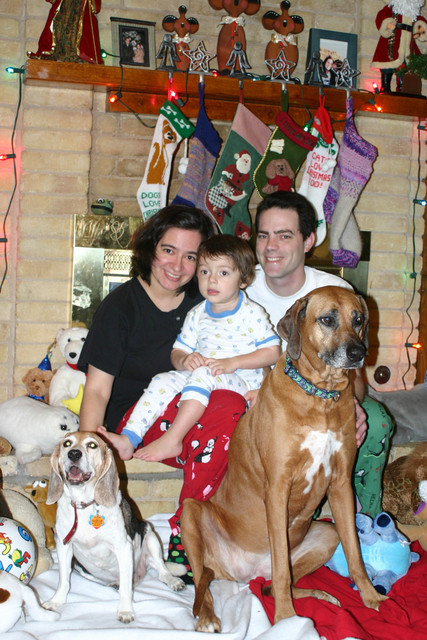 And with that, Merry Christmas to all from our little family. Stay safe and warm, enjoy togetherness, and try to let the busyness of the whole thing slide off your back lest it ruin the true joy of the holidays. See ya next year!